---
Thanks to a new report on state-by-state drug issues, courtesy of WalletHub, we now have a good idea which are the most perilous for people who use drugs, whether its marijuana, mushrooms, or methamphetamines. (The report doesn't break down which drugs people were arrested for.)
The Five States with the Highest Rates of Drug Arrests
South Dakota (tie)
Wyoming (tie)
South Carolina (tie)
North Dakota
Mississippi
We have a three-way tie for worst place and, notably, a clear regional pattern. Three of the top drug arrest states are neighbors in the thinly populated region where the northern plains eventually run into the Rocky Mountains. All are deep red states. The other two are in the heart of Dixie, and are also deep red.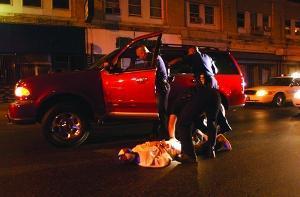 None of these states has legalized or even decriminalized marijuana (North Dakota just decriminalized this month, but it's not in effect yet), which accounts for roughly half of all drug arrests. So there's that, too.An oft-heard lament of bikers attending the annual Sturgis motorcycle rally in South Dakota's Black Hills is that "you come for a stroll, but leave on parole" (or, in a more optimistic variant, "you come on vacation, but leave on probation"). One reason for that and for the state's number one ranking here is South Dakota"s unlawful ingestion or "internal possession" law, a uniquely regressive andst repressive addition to the drug war armory.
Under that law, anyone who tests positive for drugs is subject to a criminal penalty — a misdemeanor in the case of marijuana, a felony for other illicit drugs. And state law enforcement routinely seeks drug tests from arrestees. If they refuse to consent, state judges routinely rubber stamp search warrant requests, and law enforcement threatens to forcibly catheterize uncooperative arrestees. Something to keep in mind on your way to Mt. Rushmore this summer.
The law applies even if the drug were ingested elsewhere. Consider that. Someone who lawfully used medical marijuana in neighboring Montana, North Dakota, or Minnesota could come to South Dakota, get hit by a car crossing the street, get drug tested in the hospital, and be arrested for unlawful ingestion under state law. Likewise, someone who smoked marijuana in neighboring Nebraska, where it is decriminalized, could face a stiffer punishment for having pot in his urine in South Dakota than if he had been caught with actual marijuana in Nebraska, where he would just pay a fine.
A bill that would remove unlawful ingestion charges for marijuana died in the legislature earlier this year. A bill to study the unlawful ingestion law, SB 167 has been signed into law this year, but only after it was amended to remove any specific mention of unlawful ingestion. Instead, it sets up a commission to study alternatives to imprisonment for drug offenses.
The Five States with the Lowest Rates of Drug Arrests
Alaska
Massachusetts
Washington
Vermont
Rhode Island
Again, a clear regional pattern emerges. Three of these states are in New England, while the other two are in the Pacific Northwest (stretching it a bit for Alaska). All of them except Alaska are deep blue states.
And all of them except Rhode Island are legal marijuana states. Rhode Island is a decriminalization state. No wonder these states have the lowest drug arrest rates; half of all drug arrests go up in smoke with legalization, or even decrim.
Two of these states — Massachusetts and Washington — have Law Enforcement-Assisted Diversion (LEAD) programs, which shunt potential drug arrestees into the public health and drug treatment systems instead of the criminal justice system. That shrinks drug arrest numbers, too.
And it shrinks arrest numbers not only by detouring drug offenders into treatment or social services instead of the courts, but also by producing a much lower future arrest rate among people who have been diverted. In Seattle, where LEAD was first introduced, people in the program were 58% less likely to be rearrested.
So… if you're headed for Mt. Rushmore or Ft. Sumter, you've been warned. Maybe visiting Plymouth Rock or Mt. Denali might be a safer choice.
The Five States with the Most Drug Arrests Per Capita (and the Five with the Fewest)