---
Justice Department 'framed' longtime DEA agent Chad Scott, attorney claims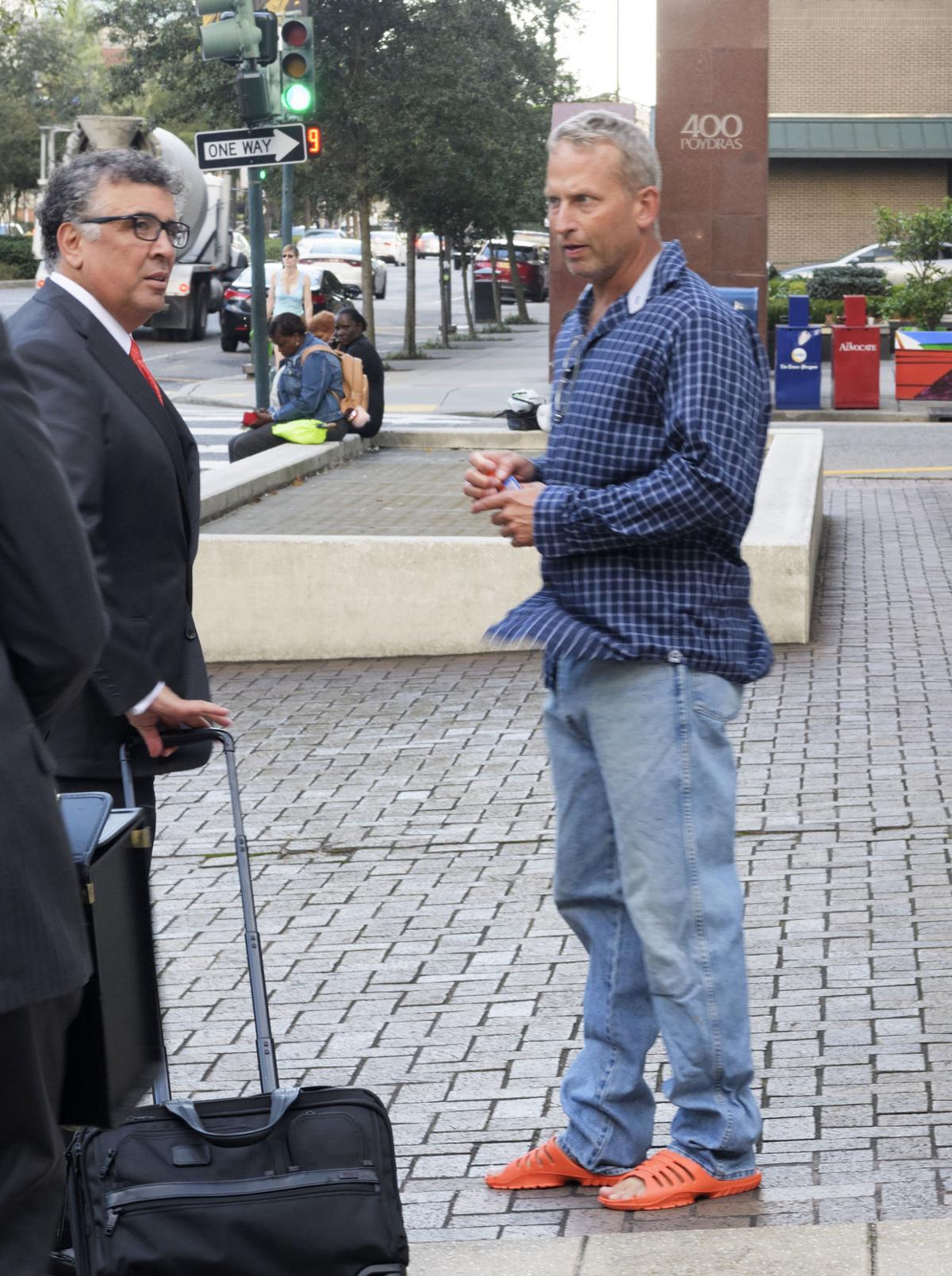 The defense attorney for indicted former federal narcotics agent Chad Scott has launched a counterattack on the U.S. Justice Department, accusing federal prosecutors of "framing" the longtime lawman and hiding evidence that points to Scott's innocence.
The attorney, Matthew Coman, asked a federal judge this week to throw out the charges against Scott, arguing in a pair of explosive court filings that the Justice Department has repeatedly concealed information about a witness in an effort to falsely paint Scott as a rogue agent.
A second motion seeks to compel the government to turn over additional details about the charges against Scott ahead of his October trial.
In the new filings, Coman alleged that the lead investigator in the case, Special Agent Michael Gannon of the Drug Enforcement Administration, was told months ago about an informant who contradicted the government's "star witness" against Scott. But the Justice Department failed to disclose that information to the defense, Coman added, and also withheld the informant's statements from a grand jury that added new charges against Scott earlier this year.
The feds even denied the informant's existence during a court hearing last month, said Coman, a former federal prosecutor.
"The government has actively conspired to conceal this exculpatory information," Coman wrote. If such conduct were to have been "undertaken by anyone but the government," he added, "it would be considered criminal in and of itself."
The government's actions amount to prosecutorial misconduct serious enough to warrant the case's dismissal, Coman argues.
Accusing the Justice Department of framing a defendant is exceedingly uncommon, said Arthur "Buddy" Lemann III, a veteran defense attorney who has closely followed Scott's case but has not been involved in the proceedings.
Coman's allegations, while not yet proven, "could be very serious," Lemann said. "It's not something one hears often in federal practice."
Coman alleges that one of his own investigators interviewed a DEA agent, Mark Lusco, and Susan Nave, a former assistant special agent in charge of the DEA's New Orleans field division. Both said that a jailhouse informant contacted Lusco late last year, saying he had information that contradicted much of the government's case against Scott.
Specifically, Coman charges, the informant told Lusco that Frederick Brown, a longtime drug trafficker, said he knew and did business with an alleged drug dealer named Jorge Perralta. Brown, one of the main witnesses against Scott, had told the federal government he did not know Perralta but that Scott coerced him to say otherwise — and thus commit perjury — to build the case against Perralta.
Lusco immediately recognized the statements were exculpatory, and he notified his superiors, including Nave, Coman wrote in the court filings. Nave, in turn, told Gannon about the witness in several phone calls, Coman added, and she said she believes she followed up with Gannon via email and in person.
"Agent Gannon replied to ASAC Nave by 'rolling his eyes,' " the motion says. Gannon contacted Lusco and asked him if he had debriefed the informant or documented any of the information in any reports, Coman alleges. Lusco told him he hadn't.
Investigators then worked to make sure that the information was never put into any reports to avoid creating a "paper trail," Coman argues. He says they also never put it before the grand jury that handed up a superseding indictment against Scott.
"To allow this abuse to continue unabated does an injustice to Agent Scott and the entire federal criminal justice system," Coman's motion concludes.
Scott faces 11 counts in all, including perjury, obstruction of justice, falsifying government records and theft.
Five of those counts stem from Perralta's 2016 federal drug trial, a proceeding that resulted in his conviction in a massive drug-trafficking conspiracy that involved more than 10 kilograms of heroin. But Perralta and a co-defendant walked free — even though a jury found them guilty — after the Justice Department dismissed the charges against them in the wake of the allegations against Scott.
If the charges against Scott are not dismissed, Coman asked U.S. District Judge Jane Triche Milazzo to reconsider a magistrate's ruling last month that denied Coman's request for more information about the charges.
Coman had asked U.S. Magistrate Daniel Knowles III to order the government to issue a so-called bill of particulars. He argued that the indictment against Scott failed to outline the specific crimes Scott is alleged to have committed as the leader of a DEA task force known for making high-profile drug busts along the Interstate 12 corridor.
Coman has complained that the government has left him in the dark about the charges against Scott, and that the entire case is built on the word of convicted criminals and "crooked" cops.
Two former members of Scott's DEA task force have pleaded guilty to federal drug charges in the case. A third member, former Hammond Police Officer Rodney Gemar, faces six counts, including conspiracy and theft of evidence.
On some of the counts, Coman argued, the Justice Department has essentially said to him, "When you worked there, you did bad things."
Federal prosecutors, for their part, have argued that the Justice Department has provided extensive "discovery" of relevant documents and that Scott is not entitled to see their entire playbook before his trial.
Coman, in his most recent motions, argues that new evidence — such as the unnamed jailhouse informant — has emerged that Knowles did not have when he issued his ruling.
"How many times will the government be allowed to lie about concealing exculpatory evidence in order to carry out their frame-up of a highly decorated agent?" Coman writes.
Coman's filings are the latest twist in an ongoing 30-month investigation into the drug task force, which has been accused of shaking down federal suspects, stealing thousands of dollars in cash during federal raids and selling narcotics through their own informants.
The fallout from the secretive inquiry has affected dozens of federal drug cases in southeast Louisiana, in part because federal authorities considered the testimony of the indicted agents to be tainted.
Milazzo has scheduled a July 12 hearing on Coman's motions.